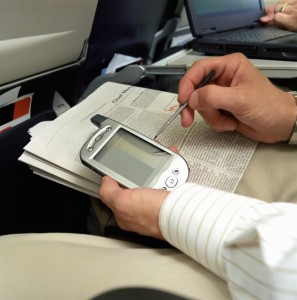 You hear about it wherever you go these days – how poor the economy is. People talk about how no one is spending any money. About how no one is buying anything. About how people aren't making decisions. About how everyone has cut back. And yet…
The first class section of a flight is always full. There may be a number of empty seats back in coach class, but the first class seats are always booked solid.
There is this misconception that in a "weak" economy, somehow all the money that was floating around and available to us is no longer. That somehow, money became scarce. If you stop and think about it, that line of reasoning just can't be true. The money is still there, it's just that people are choosing to use it a bit differently.
And it's not just the well-off who I'm referring to. People at all socio-economic levels have money and continue to spend it. I'm writing this article while sitting at a coffee shop of a well-known national chain. The place is busy with people drinking coffee, talking and working. In fact, most good coffee shops I know are generally busy. There's been no appreciable impact on the coffee shop business because of the economy.
Your first inclination might be to say that observing coffee drinkers and relating it to the economy is a bit naïve or a misrepresentation of the truth, but it's not. Let me expand on my observations about both the coffee shop and flying first class as a way to understand what it takes to succeed regardless of the economy. It is an understanding of these dynamics that allows us to earn $10,000, $20,000, or even $50,000 a month in any economy.
Even though the people who go out for coffee and purchase first class seats have the same degree of uncertainty about the future as the rest of the population, they choose to use their money to acquire or experience things. If people were truly in a "survival" mode, there would be no large screen TV's sold, no new car sales, and plenty of empty seats in first class.
We need to ask ourselves, "Why do so many people continue to go out for coffee even though it is FAR more expensive than making coffee at home or at the office?" Obviously there are a number of reasons why people do this, but it really helps to examine some of them in order to understand how to be successful in our own business. In no particular order, they are: socializing, desire, change of perspective, service, choices, and value. (This is by no means meant to be an exhaustive list.)
Likewise, it helps to examine why first class seating is almost always full. Some of the reasons are socializing, desire, change of perspective, service, choices, and value. Both lists are the same. There are some important clues here as to why people will choose to spend their money even during times of uncertainty. Let's go through the reasons one-by-one and examine the dynamic at play so we can achieve our own success.
SOCIALIZING: Many people will go out to a coffee shop in order to be around other people or to meet someone. It's a comfortable and relaxing environment to have a conversation or people watch. Many people who fly first class have achieved a certain level of success and are interesting to talk to.
People will often invest in products and services which allow them to be a part of a special community. If you can create the means for clients and customers to connect, you increase the likelihood that a prospect will become a client.
DESIRE: Many people have a "need" to go to a coffee shop. They love the taste of that particular brand of coffee, they may have a craving for caffeine, or they simply may be in the habit of going out for coffee (and after all, we are all creatures of habit). The same kind of dynamic holds true for first class passengers. They may need to have the feeling that comes with first class treatment, or they may need to fly first class in order to feel special or maintain a certain self-image.
People will often invest in products and services when they are shifted from "wanting" something to a state of "needing" it. If you can create that desire in your prospects they are more likely to take action.
CHANGE OF PERSPECTIVE: Whether someone is going out for coffee or flying first class, doing something that offers a change of perspective can be highly desirable. Changing one's perspective can bring about order-of-magnitude changes in one's life. By changing what you are looking at or experiencing, it allows you to see yourself and your business in a different light. Changing what you look at can provide one with transformational insights.
People will often invest in products and services which help them change their perspective on their business and their life. If you can offer people a change of perspective so they can see what they weren't able to see before, prospects are more likely to take action.
SERVICE AND CHOICES: People love to be catered to and love to have options. Visiting a coffee shop means no pots or cups to wash, and a variety of food and drinks to choose from. Flying first class means having all one's needs attended to, being treated as a special person, and having choices that others might not have.
People will often invest in products and services which offer extra service, extra attention, and extra options. If you can offer prospects levels of increasing service, they are more likely to take action.
VALUE: The value of something is dependent upon how it's perceived by someone. For someone who's starving, a fast-food hamburger is of very high value. For someone who wants a prime cut of filet mignon, a fast-food hamburger has low value to them. To a person going out for coffee, the value that the experience offers justifies the investment. To a person flying first class, the value of the experience also justifies the investment.
People will often invest in products and services when the perceived value exceeds the dollar invested. If you give people more in use value than you receive in cash value, you and your business will thrive.
The point is that regardless of whether the economy is "strong" or "weak", people will always choose to spend and invest their money on products and services which help them socialize, meet their desires, change their perspectives, offer extra services and choices, and/or exceed the value they perceive. Take this opportunity to reflect on your business and reinvent it for success.